Kismon is GUI client for kismet (wireless scanner/sniffer/monitor) with several features:
a live map of the networks
file import: netxml (kismet), csv (old kismet version), json (kismon)
file export: kmz (Google Earth) and all import formats
signal graph for each network
it can connect to multiple kismet servers simultaneously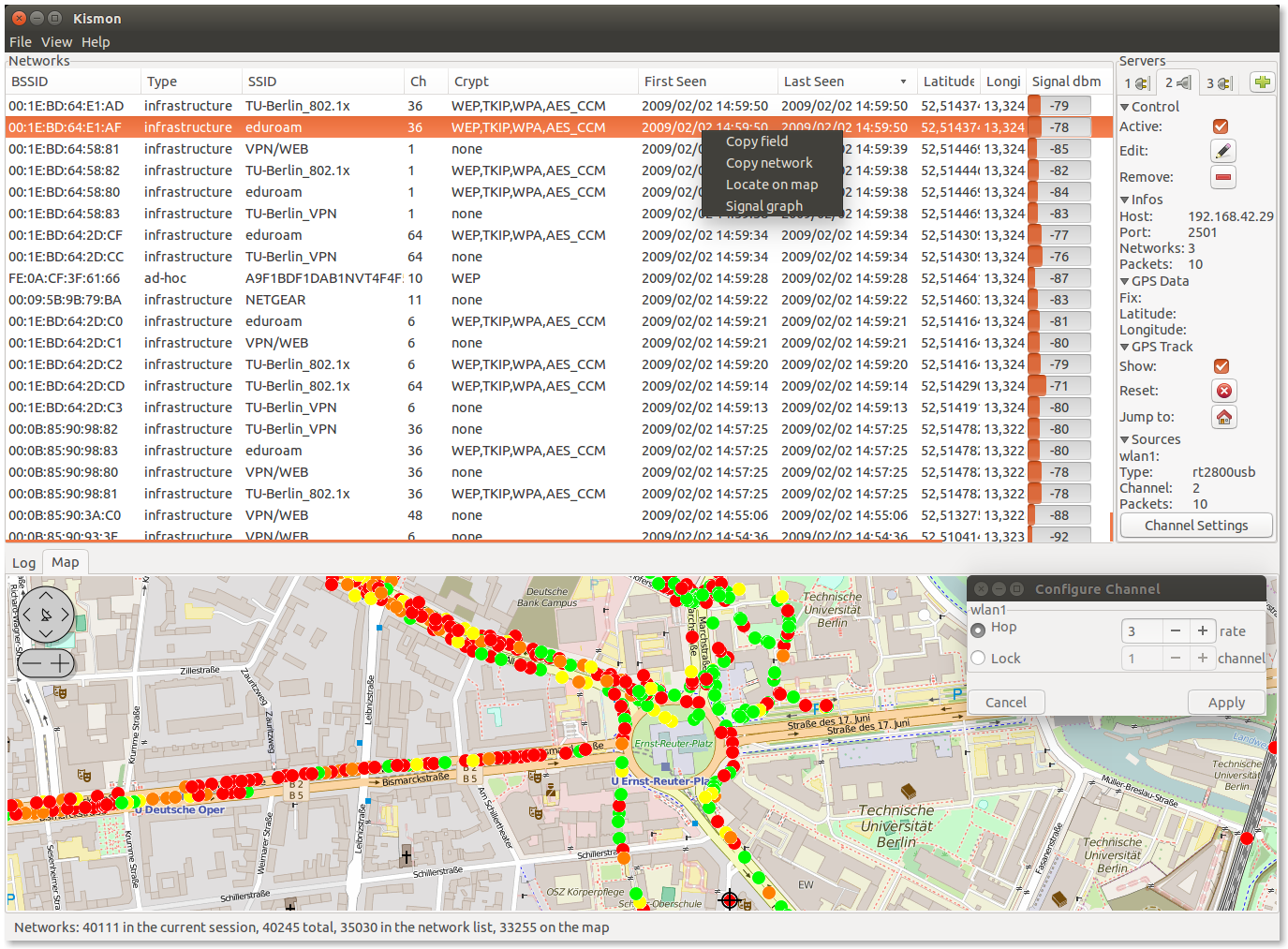 Dependencies
kismet (>=2019-12-R2)
osm-gps-map (>=1.0.2)

osm-gps-map is optional, the map will be disabled if it's missing

python3-gi, python3-cairo, python3-simplejson
GTK+ 3
Kismet Compatibility
As kismon is a client for kismet that communicates over a network protocol, changes on the server side sometimes require updates on the client side. It's recommended to use the latest compatible versions.
Here is a list of the known compatibility:
kismon 1.0.3

Kismet 2019-12-R2 - 2020-12-R3

kismon 1.0.2

Kismet 2019-12-R2 - 2020-03-R1

kismon 1.0.1

Kismet 2019-08-R1 - 2019-09-R1

kismon 1.0.0

Kismet 2019-01-beta2 - 2019-04-R1

kismon 0.9

Kismet 2011-01-R1 - 2016-07-R1

kismon 0.8

Kismet 2011-01-R1 - 2014-02-R1
Download
Download Kismon with git:
git clone https://github.com/Kismon/kismon.git kismon

Packages
Links
Feedback
If you have questions or comments please read the contact page.